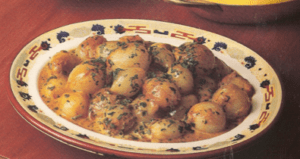 Best of Gourmet 
1987
 serves 10?
Another perennial favorite for Thanksgiving. It's really easy and can be made the day before. In fact I'd recommend that as it enhances the flavors. Don't add the parsley until serving though.
Ingredients 
3 pounds (about 50) small white onions, blanched in boiling water for 2 minutes, drained, and peeled (or frozen)
2 tablespoons unsalted butter
1 teaspoon sugar 
3/4 teaspoon salt 
2/3 cup heavy cream 
2/3 cup minced fresh parsley leaves 
Directions
In a deep skillet large enough to hold the onions in one layer combine the onions, the butter, the sugar, the salt, and enough water to cover the onions by 1/2 inch, bring the water to a boil, and boil the onions until the liquid is almost evaporated. Cook the onions over moderate heat, swirling the skillet, until they turn golden and begin to brown. Add the cream, bring the liquid to a boil, and boil the mixture, stirring occasionally, until the sauce is thickened slightly. Season the mixture with salt and pepper and stir in the parsley. The onion mixture may be prepared 1 day in advance, kept covered and chilled, and reheated in a skillet over moderately low heat, stirring, until it is hot.
Notes
Gourmet says this serves 10, but I guarantee it won't serve that many.