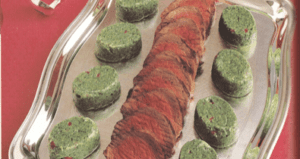 Best of Gourmet 
1987
serves 8 
John & Norm gave me timbale molds when they moved to southern California. If you don't have timbale molds you can use custard cups, ramekins or even muffin tins.
Ingredients 
1 large red bell pepper. cut into 1/4 inch pieces
1 tablespoon unsalted butter
a 10-ounce package frozen chopped spinach thawed, drained, and squeezed
a l0-ounce package frozen peas. thawed and drained
1 teaspoon dried chervil 
3/4 cup canned chicken broth 
1 tablespoon sugar 
freshly ground black pepper to taste
3 eggs lightly beaten
Directions
In a small skillet cook the bell pepper in the butter over moderately low heat, stirring, until it is softened, remove the skillet from the heat and let the mixture cool. In a food processor purée the spinach, the peas, the sugar, the black pepper and salt to taste. In a bowl combine well the puree, bell pepper mixture and the eggs and divide the the mixture among 8 buttered 1/2-cup timbale molds. Put the molds in a baking pan, and add enough hot water to the pant to reach halfway up the sides of the molds, and bake the timbales in a preheated 400° F. oven for 35 minutes, or until a knife comes out clean. The timbales may be made 1 day in advance and chilled. To re-warm them unmold into a glass baking dish large enough to just hold them. Add about 2 tablespoons or enough to barely cover the bottom and reheat the timbales, covered with foil in a pre-heated 500°F oven for 15 minutes. Invert the timbales onto a platter.
Notes
Gourmet says this serves 8, but I've squeezed 10 out the the recipe. I've also easily left out the bell pepper. Still tasty. It's also a great template for timbales of your own creation.